Drummettes in Garlic Butter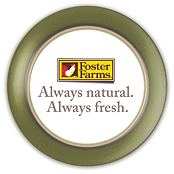 Summary
These tasty drummettes are great for large gatherings. Using Foster Farms fresh chicken wing drummettes and a savory garlic butter sauce, these appetizers will kick off the party.
INGREDIENTS
Chicken:
1 package Foster Farms Chicken Wing Drummettes
1/4 cup milk
flour
2 tablespoons salad oil
1/4 teaspoon salt
Garlic Butter Sauce:
1/3 cup butter
1 tablespoon chopped parsley
1 teaspoon lemon juice
1 large garlic clove, crushed
DIRECTIONS
1. Dredge drummettes in milk, then in flour. In a 12-inch skillet, heat oil. Cook over medium heat until lightly browned on both sides. Sprinkle with salt and remove from heat.

2. Place in shallow baking dish and bake at 350 degrees for 15 minutes.

3. Just before drummettes are finished cooking, combine sauce ingredients in 12-inch skillet and bring to a boil. Pour hot sauce over drummettes.

4. Decorate with lemon slices, if desired.