Hot Licks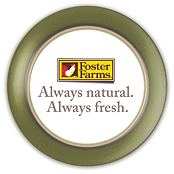 Summary
Another party favorite, using Foster Farms fresh chicken wing drummettes, it's hard to keep these Hot Licks on the plate! Serve them at your gathering and your guests will leave happy and full!
INGREDIENTS
Chicken:
1 package Foster Farms Chicken Wing Drummettes
Sauce:
1/4 cup teriyaki sauce
1/4 cup cream sherry
1 clove garlic, sliced
1/4 teaspoon powdered ginger
oil for basting
DIRECTIONS
1. Combine teriyaki sauce, sherry, garlic and ginger. Pour over drummettes, and marinate for 2 to 3 hours. Drain well.

2. Place on oiled baking pan, and brush with oil. Bake at 375 degrees for 45 minutes, or until tender, turning once.

3. If you prefer, you can broil the drummettes about 6-inches from the heat for about 10 minutes, turning frequently.