Chicken Ole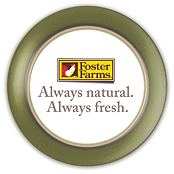 Summary
Ole! These chicken wings are a spicy treat, coated with a special enchilada sauce. Warm up a chilly night with Chicken Ole.
INGREDIENTS
Chicken:
2 packages Foster Farms Chicken Wings
Sauce:
2 cans (10 3/4 oz. ea.) cream of chicken soup
2 cans (2 1/4 oz. ea.) sliced ripe olives, drained
1 cup enchilada sauce
2 teaspoons paprika
Top With:
1 cup shredded longhorn cheese
flour tortillas
DIRECTIONS
1. Place wings in a 2-quart baking dish.

2. Combine chicken soup, olives, enchilada sauce and paprika in a 1-quart saucepan. Heat until smooth, stirring constantly.

3. Pour mixture over chicken, cover and bake in a 350 degree oven for 45 minutes.

4. Place wings on serving dish and sprinkle with cheese. Serve with hot, buttered tortillas.