Chicken Caesar Salad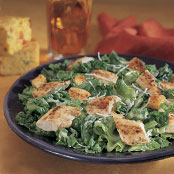 Servings: 4-5
Prep Time: 5 minutes
Cook Time: 8 minutes
User Rating:

Read User Reviews
Print:
3x5
,
4x6
,
full page
Foster Farms Recipe
Summary
Using our Foster Farms Boneless Skinless Breast Tenders, this is a delicious appetizer Caesar Salad, with parmesan cheese, croutons, and romaine lettuce.
INGREDIENTS
1 package Foster Farms Boneless Skinless Breast Tenders
1 bottle Caesar dressing
8 cups Romaine lettuce, torn
Parmesan cheese
croutons
USER NOTES & RATINGS
10/6/2005 Reviewed by CC

Rate and add Comments
DIRECTIONS
1. Toss breast tenders with 1/4 cup dressing.

2. Heat non-stick skillet over medium-high heat. Saute breast tenders 6 to 8 minutes, turning frequently.

3. Divide lettuce evenly among plates. Arrange 3 to 4 breast tenders over lettuce. Top with Parmesan cheese, croutons and additional salad dressing as directed. Serve immediately.