Chicken Tostada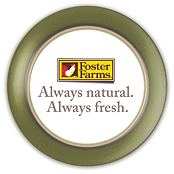 Summary
Combining fresh ingredients with Foster Farms ground chicken makes these tostadas extra yummy!
INGREDIENTS
Chicken:
1 package Foster Farms Ground Chicken
1 tablespoon oil
1/2 cup chopped onion
1/2 teaspoon salt
1/8 teaspoon pepper
1/8 teaspoon garlic powder
1 can (4 oz.) diced green chilies
1 1/2 cups shredded Cheddar cheese
Serve With:
4 tostada shells
4 to 5 cups shredded lettuce
1/2 cup chopped tomato
1/4 cup sour cream
1/4 cup sliced olives
DIRECTIONS
1. In a large frying pan, brown ground chicken in oil, until crumbly.

2. Add onion and saute lightly. Stir in salt, pepper, garlic powder, green chilies, and 1 cup cheese.

3. Place each tostada shell on a serving plate. Top with chicken mixture, shredded lettuce, and remaining cheese.

4. Garnish with chopped tomato, sour cream and sliced olives.