Annie's Turkey Salad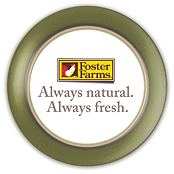 Servings: 10
Prep Time: 190 minutes
Cook Time: 10 minutes
User Rating:

Read User Reviews
Print:
3x5
,
4x6
,
full page
Copyright 2005 Allrecipes.com; by Ann Sizemore
Summary
This chunky turkey salad is served chilled. It's a great way to use up leftovers. The ingredients may be adjusted to taste.
INGREDIENTS
6 cups Foster Farms Fresh Turkey Breast Cutlets, cooked OR leftover Turkey
6 eggs
1 (16 ounce) jar sweet pickles, chopped
1 1/2 (10 ounce) jar mustard-mayonnaise blend
3/4 cup mayonnaise
DIRECTIONS
1. Place eggs in a medium saucepan and cover with cold water. Bring water to a boil and immediately remove from heat. Cover and let eggs stand in hot water for 10 to 12 minutes. Remove from hot water, cool, peel and chop.

2. In a large bowl, thoroughly mix the eggs, turkey, pickles, prepared sandwich and salad sauce and mayonnaise. Chill in the refrigerator approximately 3 hours before serving.
NUTRITIONAL INFO
| | |
| --- | --- |
| Calories | 369 cal |
| Total Fat | 21.4 g |
| Cholesterol | 203 mg |
| Sodium | 705 mg |
| Carbohydrates | 15.4 g |
| Fiber | 0.5 g |
| Protein | 28.8 g |