Mushroom Gizzards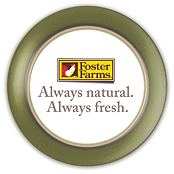 Servings: 4
Prep Time: 10 minutes
Cook Time: 30 minutes
User Rating:

Read User Reviews
Print:
3x5
,
4x6
,
full page
Copyright 2009 Allrecipes.com; by Barbara
Summary
Chicken gizzards cooked in the microwave with creamy mushroom soup and light seasoning.
INGREDIENTS
2 pounds Foster Farms Chicken Gizzards
1/2 cup all-purpose flour
1/4 teaspoon paprika
salt and pepper to taste
1 tablespoon olive oil
1 (10.75 ounce) can condensed cream of mushroom soup
1 (10.75 ounce) can water
DIRECTIONS
1. Clean and rinse gizzards, being sure to trim off any green material. Place cleaned gizzards in a large bowl. Mix flour, paprika, salt and pepper together in a small bowl; pour mixture onto gizzards and toss well to coat. 2. Heat oil in a large skillet over medium high heat. Brown coated gizzards in oil; drain and place in a microwave safe dish. 3. In a medium bowl mix together the soup and a soup can of water; pour mixture over gizzards, cover and cook in microwave on high for 15 minutes. 4. Stir, replace cover and cook for another 10 minutes. Check for tenderness; if still too firm, cook in microwave for another 5 minutes. Let sit and set for 5 minutes after cooking, before serving.
NUTRITIONAL INFO
| | |
| --- | --- |
| Calories | 361 cal |
| Total Fat | 14 g |
| Cholesterol | 248 mg |
| Sodium | 616 mg |
| Carbohydrates | 19.1 g |
| Fiber | 0.7 g |
| Protein | 37.5 g |