Sausage & Cornbread Stuffed Chicken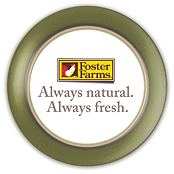 Servings: 6 to 8
Prep Time: 25 minutes
Cook Time: 150 minutes
User Rating:

Read User Reviews
Print:
3x5
,
4x6
,
full page
Foster Farms Recipe
Summary
Looking for a great stuffed chicken recipe? Try this delicious sausage and cornbread stuffed chicken roaster. Sausage, cornbread stuffing, walnuts, and plenty of seasoning make this stuffed chicken recipe a favorite fast!
INGREDIENTS
Chicken:
1 Foster Farms Roaster
Stuffing:
2 tablespoons butter or margarine
12 ounces seasoned lean pork sausage
1 medium onion, chopped
1/2 teaspoon finely chopped garlic
1/2 teaspoon dried sage leaves
2/3 cup low-sodium chicken broth
1 package (6 oz.) seasoned cornbread stuffing
1/2 cup chopped walnuts
1/2 cup chopped parsley
1 egg, beaten
oil
salt and pepper
USER NOTES & RATINGS
12/25/2005 Reviewed by Kyrsta Christensen

I LOVE this. I have always been one for traditional but this is SO good. The most amazing smelling stuffing while cooking also. MMM! I am not a nut lover but it is good you dont know they're there.
Rate and add Comments
DIRECTIONS
1. Heat oven to 350 degrees. Remove giblets. Rinse chicken and pat dry.

2. In large skillet, melt butter over medium heat. Cook sausage and onion, until sausage is cooked, stirring constantly to break up sausage.

3. Add garlic, sage, and chicken broth. Remove from heat. Mix in stuffing, walnuts, parsley, egg and mix well.

4. Fill chicken loosely with stuffing. Tie legs together. Place in roasting pan. Brush with oil, and season with salt and pepper.

5. Roast 2 to 2 1/2 hours, basting every 30 minutes. Cover loosely with foil if grease splatters.

6. Place any remaining stuffing in greased baking dish and bake during last 30 minutes.