Chicken Cacciatore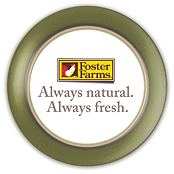 Summary
This delicious chicken cacciatore is a great dish to serve to company. With a sauce made of white wine, onion, garlic, and spaghetti sauce coating the chicken, this recipe is guaranteed to impress! Serve with fresh french bread.
INGREDIENTS
Chicken:
1 package Foster Farms Best of Our Fryer
1 cup all-purpose flour
3 tablespoons olive oil
Sauce:
3 tablespoons butter or margarine
1 medium onion, chopped
1/2 pound small mushrooms, sliced
2 teaspoons chopped fresh parsley
1 clove garlic, mashed
1 cup dry white wine
1 can (10 3/4 oz.) spaghetti sauce with mushrooms
2 bay leaves
1/2 teaspoon salt
1/2 teaspoon pepper
Serve With:
4 ounces dry spaghetti
DIRECTIONS
1. Dredge chicken pieces in flour and coat well on all sides. Heat olive oil in large skillet over medium-high heat. Saute chicken until well browned on all sides. Remove chicken from skillet and set aside.

2. Add butter to skillet. Saute onion and mushrooms until lightly browned, about 5 minutes. Add parsley, garlic and wine. Stir to scrape browned bits from bottom of skillet.

3. Return chicken to skillet. Cover and simmer 10 minutes. Add spaghetti sauce, bay leaves, salt and pepper. Cover and simmer 35 minutes, or until chicken is tender.

4. Remove bay leaves. Skim and discard fat.

5. Meanwhile, cook the spaghetti in boiling, salted water until it is just tender, or "al dente". Drain spaghetti well.

6. To serve, arrange noodles on a serving platter. Place chicken on top of noodles and spoon sauce over the chicken pieces.