Hacienda Chicken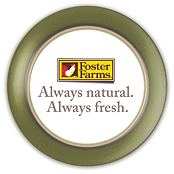 Summary
This delectable Hacienda Chicken recipe is spiked with flavor! Bacon, carrots, chilies, lemon slices, and tomato juice are just some of the delicious ingredients used in this dish.
INGREDIENTS
Chicken:
1 package Foster Farms Best of Our Fryer
1/2 cup all-purpose flour
1 teaspoon salt
1/2 teaspoon pepper
1/2 teaspoon paprika
2 tablespoons vegetable oil
Cover With:
4 strips of bacon
2 carrots, sliced
1 can (4 oz.) chopped green chilies
1 tablespoon chopped fresh parsley
1 bay leaf
1/2 teaspoon thyme
1 lemon, thinly sliced
2 cups tomato juice
DIRECTIONS
1. Combine flour, salt, pepper and paprika in a bowl. Roll chicken pieces in seasoned flour.

2. Pour oil into large skillet. Place over medium-high heat. Add chicken pieces and brown well on all sides.

3. Remove chicken to a large casserole dish. Lay bacon strips over chicken.

4. Add carrots, chilies, parsley, bay leaf and thyme to casserole. Top with lemon slices and pour tomato juice over all.

5. Cover and bake at 350 degrees for 1 hour.

6. Skim and discard fat before serving.