Sweet and Sour Drumettes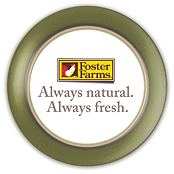 Servings: 4
Prep Time: 40 minutes
Cook Time: 30 minutes
User Rating:

Read User Reviews
Print:
3x5
,
4x6
,
full page
Copyright 2009 Allrecipes.com; by Lynda
Summary
Drumettes baked in a sweet and sour mixture of soy sauce, vinegar, water and sugar. Short but sweet...and sour!
INGREDIENTS
Chicken:
8 Foster Farms Drummettes
2 eggs, beaten
1/4 cup all-purpose flour for coating
Sauce:
3 tablespoons soy sauce
3 tablespoons water
1 cup white sugar
1/2 cup vinegar
DIRECTIONS
1. Dip chicken in egg beat, then flour. Fry in a large skillet until crispy, about 15 minutes. Drain and place in a 9x13 inch baking dish. 2. Preheat oven to 350 degrees F (175 degrees C). 3. To Make Sauce: In a small bowl combine the soy sauce, water, sugar and vinegar. Mix together and pour over chicken. 4. Bake in the preheated oven for 30 minutes, or until cooked through and juices run clear.
NUTRITIONAL INFO
| | |
| --- | --- |
| Calories | 488 cal |
| Total Fat | 18.6 g |
| Cholesterol | 183 mg |
| Sodium | 791 mg |
| Carbohydrates | 57.2 g |
| Fiber | 0.3 g |
| Protein | 22.9 g |