Roasted Chicken with Lemon and Sage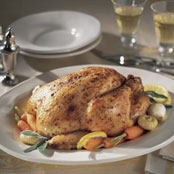 Summary
Using a Foster Farms Whole Chicken, this is a wonderful, warm, home-cooked meal the entire family will enjoy.
INGREDIENTS
1 Foster Farms Roaster or Whole Bird
2 lemons, sliced
1/2 cup sage leaves, loosely packed
1 small carrot (2 oz.) peeled and halved
1 small onion (4 oz.)
1 celery stalk (2 oz.), cut into 2" lengths
1/2 cup white wine
1 cup chicken broth
DIRECTIONS
1. Preheat oven to 350°F. Wash and dry chicken. Season the cavity with salt and pepper, then stuff with lemon and herb.

2. Tie the drumsticks together. Rub chicken with oil, salt and pepper. Place the vegetables in a lightly oiled roasting pan.

3. Add chicken, breast side down and roast for 30 minutes. Turn chicken, breast side up and roast for 40 minutes.

4. Add wine to pan and set oven temperature to 450°F. Continue to cook for 10 to 15 minutes until internal temperature reaches 175°F.

5. Remove chicken and vegetables and place on serving platter. Add chicken broth to the pan and stir, scraping up glazed bits. Process this mixture in a blender, strain sauce and serve on the side.