Leah's Chicken Soup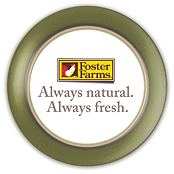 Servings: 10
Prep Time: 15 minutes
Cook Time: 60 minutes
User Rating:

Read User Reviews
Print:
3x5
,
4x6
,
full page
Copyright 2009 Allrecipes.com; by Leah Magid
Summary
Chicken leg quarters are simmered with onions, carrots, celery and fresh dill to make an all-purpose chicken stock with chicken meat to use immediately or freeze for later.
INGREDIENTS
5 pounds Foster Farms Chicken Leg Quarters
1 large onions, sliced
4 large carrots, peeled and chopped
1 bunch celery tops with leaves, chopped
salt and pepper to taste
1 bunch fresh dill, chopped
DIRECTIONS
1. Place the chicken quarters in the largest pot you own with the onions, carrots and celery. Fill the pot with cold water 3/4 full. Season with salt and pepper and place over medium heat. Bring to a boil, then reduce heat and simmer, covered, 45 minutes to 1 hour, skimming foam as necessary. 2. Stir the dill into the pot and cook 5 minutes more. Remove from heat, uncover, and let cool to lukewarm. 3. Remove the chicken. Get another big huge receptacle and pour the soup through a sieve into it. (Discard useless destroyed vegetables and stray chicken parts.) Refrigerate or freeze for future use. When cool enough to handle, shred or chop chicken meat for future use. 4. Authors notes: Put some of this stock away in the freezer for recipes -- it's good to add to a turkey roasting pan instead of water, to rice, and to just about everything else -- or emergencies such as company, illness or tsuris. If you want to make soup, put some of the stock on the stove in a soup pot (not the big one unless you're feeding mishpocha). When it's about ten minutes before serving time, add some of the chicken, carrot coins, extra fine egg noodles, or celery.
NUTRITIONAL INFO
| | |
| --- | --- |
| Calories | 286 cal |
| Total Fat | 8.9 g |
| Cholesterol | 134 mg |
| Sodium | 183 mg |
| Carbohydrates | 6.5 g |
| Fiber | 1.9 g |
| Protein | 42.8 g |