Accidental Grilled Chicken Salad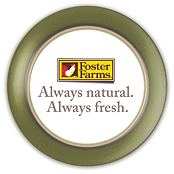 Servings: 6
Prep Time: 90 minutes
Cook Time: 30 minutes
User Rating:

Read User Reviews
Print:
3x5
,
4x6
,
full page
Copyright 2005 Allrecipes.com; by Karen
Summary
Grilled marinated chicken breast meat, sweet onions, and mushrooms are blended with mayonnaise and seasoned with hot sauce to create an easy chicken salad!
INGREDIENTS
Chicken:
4 Foster Farms Half Breasts
Marinade:
2 tablespoons lemon juice
2 tablespoons olive oil
2 teaspoons lemon pepper
Salad:
2 Vidalia onions, thickly sliced
4 large mushroom caps, chopped
1 cup mayonnaise
hot sauce to taste (optional)
salt and pepper to taste
DIRECTIONS
1. Place chicken breast halves in a large resealable plastic bag with lemon juice, olive oil, and lemon pepper. Shake to coat, and marinate in the refrigerator for at least 1 hour. 2. Preheat a grill for high heat. 3. Lightly oil the grill grate. Place the Vidalia onions and mushrooms on the grill, and cook until lightly charred on both sides; set aside. Place chicken onto the grill, and discard marinade. Cook for 15 minutes, turning once, or until juices run clear. Remove from heat, cool, and chop. 4. In a large bowl, thoroughly mix the onions, mushrooms, chicken, and mayonnaise. Season with hot sauce, salt, and pepper. Cover, and refrigerate until serving.
NUTRITIONAL INFO
| | |
| --- | --- |
| Calories | 424 cal |
| Total Fat | 35.7 g |
| Cholesterol | 66 mg |
| Sodium | 404 mg |
| Carbohydrates | 8.7 g |
| Fiber | 1.6 g |
| Protein | 18.1 g |