Grilled Chicken Adobo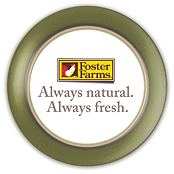 Servings: 8
Prep Time: 15 minutes
Cook Time: 35 minutes
User Rating:

Read User Reviews
Print:
3x5
,
4x6
,
full page
Copyright 2009 Allrecipes.com; by Donna Luna
Summary
Foster Farms Chicken Thigh meat is cooked in a rich soy sauce, garlic, and vinegar mixture, then tossed on the grill until crisp. Serve over rice.
INGREDIENTS
3 pounds Foster Farms Boneless Skinless Chicken Thighs
1 1/2 cups soy sauce
1 1/2 cups water
3/4 cup vinegar
3 tablespoons honey
1 1/2 tablespoons minced garlic
3 bay leaves
1/2 teaspoon black pepper
USER NOTES & RATINGS
6/8/2007 Reviewed by Ken Bosso

Rate and add Comments
DIRECTIONS
1. Preheat an outdoor grill for high heat, and lightly oil grate.

2. In a large pot, mix soy sauce, water, vinegar, honey, garlic, bay leaves, and pepper. Bring the mixture to a boil, and place the chicken into the pot. Reduce heat, cover, and cook 35 to 40 minutes.

3. Remove chicken, drain on paper towels, and set aside. Discard bay leaves. Return the mixture to a boil, and cook until reduced to about 1 1/2 cups.

4. Place chicken on the prepared grill, about 5 minutes on each side, until browned and crisp. Serve with the remaining soy sauce mixture.
NUTRITIONAL INFO
| | |
| --- | --- |
| calories | 255 cal |
| total fat | 6.7 g |
| cholesterol | 141 mg |
| sodium | 2892 mg |
| carbohydrates | 11.2 g |
| fiber | 0.5 g |
| protein | 36.1 g |