Spicy Hot Chicken Legs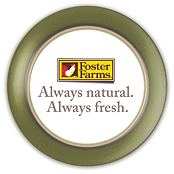 Servings: 6
Prep Time: 5 minutes
Cook Time: 180 minutes
User Rating:

Read User Reviews
Print:
3x5
,
4x6
,
full page
Copyright 2009 Allrecipes.com; by LLAU
Summary
This is just like spicy chicken wings, only less work. Cooks up nicely in the slow cooker! A quick meal that is super easy and oh so yummy! For crispier chicken, bake in a 400 degrees F oven for the final 30 minutes.
INGREDIENTS
12 Foster Farms Chicken Drumsticks
1 (5 ounce) bottle hot red pepper sauce
1/4 cup butter, cubed
1/2 teaspoon garlic powder
1/2 teaspoon onion powder
salt and pepper to taste
1 1/2 cups blue cheese salad dressing
USER NOTES & RATINGS
3/31/2006 Reviewed by Adam Lipinski

Rate and add Comments
DIRECTIONS
1. Place the drumsticks in a slow cooker, and sprinkle evenly with pieces of butter. Pour the hot sauce over the chicken, then season with garlic powder, onion powder, salt and pepper. Cover, and cook on High for 3 hours, or until tender. Serve chicken legs with blue cheese dressing on the side.
NUTRITIONAL INFO
| | |
| --- | --- |
| Calories | 685 cal |
| Total Fat | 55.6 g |
| Cholesterol | 159 mg |
| Sodium | 1087 mg |
| Carbohydrates | 5 g |
| Fiber | 0.2 g |
| Protein | 41.4 g |