Apricot Chicken I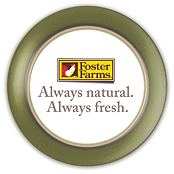 Servings: 6
Prep Time: 30 minutes
Cook Time: 60 minutes
User Rating:
Read User Reviews
Print:
3x5
,
4x6
,
full page
Copyright 2005 Allrecipes.com; by Shirley Rickey
Summary
Prepared with Foster Farms Boneless, Skinless, Chicken Breat Havles, quickly prepared with jam, soup mix and bottled salad dressing, this chicken will surprise you with its intricate melding of flavors.
INGREDIENTS
6 Foster Farms skinless, boneless chicken breast halves
1 1/2 (1 ounce) packages dry onion soup mix
1 (10 fluid ounce) bottle Russian-style salad dressing
1 cup apricot preserves
DIRECTIONS
1. Preheat oven to 350 degrees F (175 degrees C).

2. Place the chicken pieces in a 4 quart casserole dish. Mix the soup mix, dressing and jam together, and pour over the chicken.

3. Cover dish and bake for 1 hour in preheated oven.
NUTRITIONAL INFO
| | |
| --- | --- |
| fiber | 0.4 g |
| calories | 521 cal |
| total fat | 25.3 g |
| cholesterol | 77 mg |
| sodium | 1100 mg |
| carbohydrates | 46.1 g |
| protein | 28.5 g |