Grilled Chicken with Ginger and Black Bean Sauce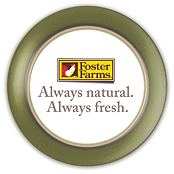 Servings: 2
Prep Time: 120 minutes
Cook Time: 20 minutes
User Rating:

Read User Reviews
Print:
3x5
,
4x6
,
full page
Copyright 2009 Allrecipes.com; by Denis Terrien
Summary
A terrific Asian-inspired marinade for grilled chicken.
INGREDIENTS
6 Foster Farms Boneless Chicken Thighs
1 tablespoon minced fresh ginger root
1 tablespoon black bean sauce with garlic
1 teaspoon sesame oil
ground black pepper to taste
DIRECTIONS
1. Place thighs in a bowl, and add ginger, black bean sauce, sesame oil, and ground black pepper. Stir well until completely coated. Marinate in the refrigerator for 2 hours.

2. Grill over medium heat until no longer pink but still juicy, about 20 minutes, turning only once.
NUTRITIONAL INFO
| | |
| --- | --- |
| Calories | 278 cal |
| Total Fat | 10.9 g |
| Cholesterol | 172 mg |
| Sodium | 233 mg |
| Carbohydrates | 1.3 g |
| Fiber | 0.2 g |
| Protein | 40.9 g |