Thai Style Chicken Wings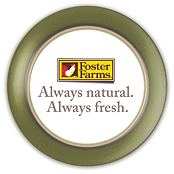 Servings: 9
Prep Time: 120 minutes
Cook Time: 45 minutes
User Rating:

Read User Reviews
Print:
3x5
,
4x6
,
full page
Copyright 2009 Allrecipes.com; by Shannon S.
Summary
These Tai Styled chicken wings use our Foster Farms Party Wings to get the party started.
INGREDIENTS
3 pounds Foster Farms Party Wings
1 cup soy sauce
1 cup packed brown sugar
1/2 cup butter
1 teaspoon mustard powder
3/4 cup water
DIRECTIONS
1. Disjoint the chicken wings, discarding the tips.

2. Combine the soy sauce, brown sugar, butter or margarine, mustard and water and heat until the sugar and butter dissolve. Let mixture cool and pour over wings. Marinate in the refrigerator for 2 hours, turning occasionally.

3. Preheat oven to 350 degrees F (175 degrees C).

4. Bake chicken wings in marinade for 45 minutes, turning once and spooning marinade over chicken occasionally. Drain on paper towels and serve.
NUTRITIONAL INFO
| | |
| --- | --- |
| Calories | 535 cal |
| Total Fat | 34.5 g |
| Cholesterol | 144 mg |
| Sodium | 1844 mg |
| Carbohydrates | 26.3 g |
| Fiber | 0.3 g |
| Protein | 29.4 g |