Orange Teriyaki Chicken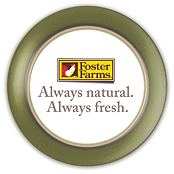 Servings: 4
Prep Time: 360 minutes
Cook Time: 50 minutes
User Rating:

Read User Reviews
Print:
3x5
,
4x6
,
full page
Copyright 2009 Allrecipes.com; by Corwynn Darkholme
Summary
Orange juice concentrate lends a fruity tone to teriyaki sauce in this simple marinade for grilled chicken.
INGREDIENTS
4 bone-in Foster Farms Half Breasts, with skin
1/3 cup teriyaki sauce
1/3 (12 fluid ounce) can frozen orange juice concentrate, thawed
DIRECTIONS
1. Rinse chicken breasts. Pat dry with paper towels. Place in a plastic bag set into a shallow dish.

2. Combine teriyaki sauce and orange juice concentrate. Pour marinade over the chicken and close the plastic bag. Marinate in the refrigerator for 6 to 24 hours, turning occasionally.

3. Remove from refrigerator and drain the chicken, reserving the marinade.

4. In a small saucepan, bring the reserved marinade to a boil and cook for 2 minutes.

5. Grill the chicken, bone side up, on an uncovered grill directly over medium coals for 20 minutes. Turn the chicken and grill for 20 to 30 minutes more or until tender, brushing often with the reserved marinade. Serve.
NUTRITIONAL INFO
| | |
| --- | --- |
| Calories | 452 cal |
| Total Fat | 20.9 g |
| Cholesterol | 144 mg |
| Sodium | 1063 mg |
| Carbohydrates | 14.5 g |
| Fiber | 0.2 g |
| Protein | 49 g |