Creole Chicken II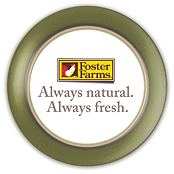 Servings: 6
Prep Time: 20 minutes
Cook Time: 45 minutes
User Rating:

Read User Reviews
Print:
3x5
,
4x6
,
full page
Copyright 2009 Allrecipes.com; by Corwynn Darkholme
Summary
A chicken curry crammed with bell peppers, onions and raisins.
INGREDIENTS
4 pounds Foster Farms Drumsticks
1/4 cup brown sugar
1 tablespoon olive oil
Sauce
4 onions, chopped
2 cloves garlic, minced
3 green bell peppers, diced
8 ounces tomato paste
1 cup raisins
1 tablespoon curry powder
2 cups chicken stock
1 bay leaf
salt and pepper to taste
1 tablespoon chopped fresh parsley
DIRECTIONS
1. Preheat oven to 350 degrees F (175 degrees C).

2. Rinse and pat dry the chicken pieces and rub them with brown sugar. In a large skillet, fry the chicken QUICKLY in hot oil (the sugar must not burn). When browned, remove to a 10x15 inch baking dish.

3. Saute the onions and garlic in oil until soft. Add the sweet peppers, tomato paste, raisins, curry powder, chicken stock, bay leaf, salt, black pepper and parsley. Simmer for about 5 minutes.

4. Pour the sauce mixture over the chicken, cover and bake in the preheated oven for 45 minutes. Remove cover and bake for another 30 minutes or until tender.
NUTRITIONAL INFO
| | |
| --- | --- |
| Calories | 783 cal |
| Total Fat | 40.3 g |
| Cholesterol | 251 mg |
| Sodium | 878 mg |
| Carbohydrates | 46.7 g |
| Fiber | 5.3 g |
| Protein | 59.3 g |