Buffalo Chicken Wings I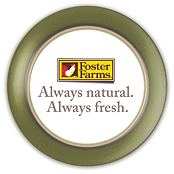 Servings: 24
Prep Time: 10 minutes
Cook Time: 10 minutes
User Rating:

Read User Reviews
Print:
3x5
,
4x6
,
full page
Copyright 2009 Allrecipes.com; by Ginger
Summary
Deep-fried chicken wings are simmered in butter and hot sauce to pack quite a kick.
INGREDIENTS
24 Foster Farms Chicken Wings
2 quarts vegetable oil for deep frying
Sauce
4 tablespoons butter
1 tablespoon distilled white vinegar
5 tablespoons hot pepper sauce
salt and pepper to taste
DIRECTIONS
1. In a large skillet or deep fryer, deep fry chicken wings in oil until done, about 10 minutes. Remove chicken and oil from skillet/fryer, drain oil and reserve chicken.

2. Melt butter/margarine in skillet, then add vinegar and hot sauce. Season with salt and pepper to taste. Stir all together. Add cooked chicken to sauce and stir over low heat to coat. The longer the wings simmer in the sauce, the hotter they will be. Serve warm.
NUTRITIONAL INFO
| | |
| --- | --- |
| Calories | 118 cal |
| Total Fat | 11.6 g |
| Cholesterol | 15 mg |
| Sodium | 107 mg |
| Carbohydrates | 0.1 g |
| Fiber | 0 g |
| Protein | 3.3 g |