Oven Fried Chicken III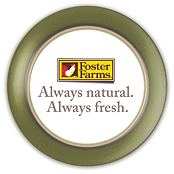 Servings: 5
Prep Time: 15 minutes
Cook Time: 45 minutes
User Rating:

Read User Reviews
Print:
3x5
,
4x6
,
full page
Copyright 2005 Allrecipes.com; by Elizabeth Hinlely
Summary
A mayonnaise coating ensures a juicy chicken in this well-seasoned, breaded chicken dish.
INGREDIENTS
1 (2 to 3 pound) Foster Farms Whole Cut Up Chicken, cut into pieces
1 cup mayonnaise
Bread Crumb Mixture
1 cup dried bread crumbs
1 teaspoon garlic powder
1 teaspoon salt
1 teaspoon ground black pepper
1 teaspoon dried thyme
1/2 teaspoon paprika
DIRECTIONS
1. Preheat oven to 350 degrees F (175 degrees C).

2. In a medium bowl or gallon size resealable plastic bag, mix together the bread crumbs, garlic powder, salt, pepper, thyme and paprika.

3. Coat the chicken pieces with mayonnaise. Place chicken pieces in bowl/bag with bread crumb mixture and coat/shake until well coated. Place chicken pieces in a lightly greased 9x13 inch baking dish and bake for 45 minutes or until juices run clear.
NUTRITIONAL INFO
| | |
| --- | --- |
| Calories | 893 cal |
| Total Fat | 70.4 g |
| Cholesterol | 196 mg |
| Sodium | 1061 mg |
| Carbohydrates | 17.8 g |
| Fiber | 0.8 g |
| Protein | 45.6 g |