Grilled Chicken BBQ Pouches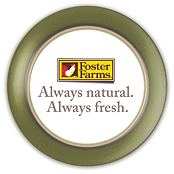 Summary
You'll enjoy these BBQ Pouches using Foster Farms Chicken Breasts! Tastes wonderful on the grill.
INGREDIENTS
Foster Farms Chicken Breasts
Vegetables:
tomatoes, diced
sweet onions, sliced
asparagus, sliced
red, yellow or green peppers
fresh corn, removed from the cob
zucchini, chopped
Herbs:
basil
oregano
rosemary
cilantro, chopped
thyme
Sauces:
olive oil
butter
barbecue sauce
teriyaki sauce
Worcestershire sauce
DIRECTIONS
1. Begin with Foster Farms chicken breasts and heavy-duty foil or parchment paper cut into 12" to 15" squares (one per person). Only use parchment if grilling on a gas grill at low heat.

2. Mix and match your choice of vegetables and seasonings.

3. Cut foil or parchment paper into 12" to 15" squares and place on a flat surface. Place a Foster Farms chicken breast on one side of the foil or parchment paper and top with vegetables, herbs and seasonings or your choice.

4. Drizzle with 1 to 2 tablespoons of sauce of your choice. Dust with salt and pepper. 4. Fold over and tightly seal the edges, making a neat package. Place packets on a medium hot grill and cook with lid closed for 20 minutes. Remove, place on plate, cut open and enjoy.