Picaditas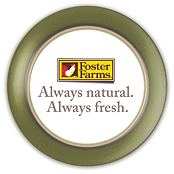 Summary
This is a traditional Mexican dish. To make it easier, you can buy already prepared picaditas at the grocery store and just add the toppings.
INGREDIENTS
1 cup Foster Farms Chicken Breast, cooked and shredded
10 oz. masa
2 tablespoons oil or melted lard
3/4 cup refried beans
1 cup crumbled fresh cheese
1/2 cup chopped onion (optional)
1 cup basic salsa
1-2 cups chicken stock
1 cup sour cream
DIRECTIONS
1. Heat an iron skillet over medium-high heat. Slowly add 1-2 cups chicken stock to masa and knead for 2-3 minutes. Form into 10 small balls about the size of a walnut, each approximately 1 oz. Place each ball in a tortilla press and push the handle down halfway, to form a 3-inch round of dough.

2. Place the dough on the hot skillet. Turn after 45-50 seconds or when the edges begin to dry out. After another 45 seconds, pinch the center of the picadita with your fingers. Turn it another time so that the pinched side is on the bottom. Cook for 45-60 seconds or until the dough looks cooked and its outer edge is a light golden brown.

3. Remove from the heat and use your fingers to crimp the edge of the picadita to form an edge like a piecrust, between 1/4 and 1/2-inch high. Wrap in a clean cloth and set aside. This can be done up to 2 hours before serving.

4. Just before serving, heat the comal skillet. Lightly grease the pinched surface of the picaditas with the oil or lard. Place each picadita on the comal with the pinched edge up. As soon as the oil begins to bubble, remove from the heat.

5. Spread each picadita with refried beans, add chicken and the salsa plus a dollop of sour cream, sprinkle with cheese. If you wish you may add the chopped onion. VARIATION: The picaditas can be fried instead of toasted.