Chilaquiles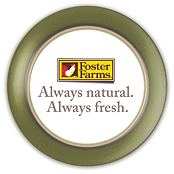 Summary
This is a great Mexican dish that is relatively easy to make.
INGREDIENTS
1 cup Foster Farms Chicken Breast, cooked and shredded
1 1/2 pounds plum tomatoes
1 1/2 cups chopped white onion
2 cloves garlic
12 serrano chiles
1/4 cup vegetable oil
12 corn tortillas, cut into 1/2-inch strips
salt and pepper to taste
1/2 cup fresh cheese
2 tablespoons sour cream
DIRECTIONS
1. Preheat the broiler. Broil the tomatoes, onions, garlic and chiles in a baking dish 4 inches from the heat for 2 to 3 minutes, or until browned. Turn the vegetables over and broil for 2 to 3 minutes, or until browned. Let cool and peel tomatoes, and chiles. Transfer vegetables in batches to a food processor and pulse until coarsely pureed.

2. Heat oil in a skillet over medium-high heat to 375 degrees. Fry tortilla strips in batches for about 1 1/2 minutes, or until slightly crisp and golden. Transfer to paper towels to drain.

3. Carefully remove all but 3 tablespoons of the oil in the skillet and heat over medium-high heat. Add the puree and the tortillas and stir gently to combine. Add chicken, season with salt and pepper, cook for 5-7 minutes or until the tortillas are heated through but still crisp. Sprinkle with the cheese and top with sour cream.