Tortilla Soup I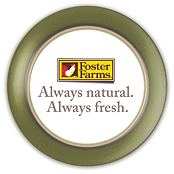 Servings: 7
Prep Time: 20 minutes
Cook Time: 50 minutes
User Rating:

Read User Reviews
Print:
3x5
,
4x6
,
full page
Copyright 2005 Allrecipes.com; by Joelene Craver
Summary
Shredded cooked chicken and broiled onion rings are added to chicken stock with a chopped jalapeno pepper, tomatoes and lime juice in this soup served with crushed tortilla chips, cheese and avocado.
INGREDIENTS
2 cups Foster Farms Breast Tenders, cooked and shredded
9 cups chicken broth
6 cloves roasted garlic
1/2 cup chopped tomatoes
1 yellow onion
2 fresh jalapeno peppers, sliced into rings
1 teaspoon dried oregano
1 lime juiced
6 (6 inch) corn tortillas, cut into strips and toasted for garnish
DIRECTIONS
1. In heavy pot, bring the stock to a boil. Add garlic, tomatoes, chopped onion, jalapeno, and oregano to the stocks. Simmer uncovered for 30 minutes. 2. Broil the sliced onions until soft and a little brown. Add broiled onions, chicken, lime juice to soup, and simmer till chicken is heated. 3. Place toasted tortilla strips in each bowl and pour soup over strips.
NUTRITIONAL INFO
| | |
| --- | --- |
| Calories | 166 cal |
| Total Fat | 4.9 g |
| Cholesterol | 30 mg |
| Sodium | 1344 mg |
| Carbohydrates | 15.9 g |
| Fiber | 2.1 g |
| Protein | 15.3 g |