Deep-Fried Turkey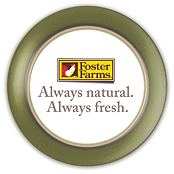 Servings: 16
Prep Time: 30 minutes
Cook Time: 45 minutes
User Rating:

Read User Reviews
Print:
3x5
,
4x6
,
full page
Copyright 2009 Allrecipes.com; by Tim and Meredith
Summary
Deep-frying a turkey takes place outdoors. A twelve pound turkey will cook for about 45 minutes. A whole peeled onion is used to keep the three gallons of oil from scorching.
INGREDIENTS
1 (12 pound) Foster Farms Fresh Whole Turkey, neck and giblets removed
3 gallons peanut oil for frying, or as needed
1/4 cup Creole seasoning
1 white onion
DIRECTIONS
1. In a large stockpot or turkey fryer, heat oil to 400 degrees F (200 degrees C). Be sure to leave room for the turkey, or the oil will spill over. Layer a large platter with food-safe paper bags.

2. Rinse turkey, and thoroughly pat dry with paper towels. Rub Creole seasoning over turkey inside and out. Make sure the hole at the neck is open at least 2 inches so the oil can flow freely through the bird.

3. Place the whole onion and turkey in drain basket. The turkey should be placed in basket neck end first. Slowly lower basket into hot oil to completely cover turkey. Maintain the temperature of the oil at 350 degrees F (175 degrees C), and cook turkey for 3 1/2 minutes per pound, about 45 minutes.

4. Carefully remove basket from oil, and drain turkey. Insert a meat thermometer into the thickest part of the thigh; the internal temperature must be 180 degrees F (80 degrees C). Finish draining turkey on the prepared platter.
NUTRITIONAL INFO
| | |
| --- | --- |
| Calories | 603 cal |
| Total Fat | 33.6 g |
| Cholesterol | 228 mg |
| Sodium | 571 mg |
| Carbohydrates | 1.4 g |
| Fiber | 0.3 g |
| Protein | 68.8 g |