Chili-Lime Chicken Kabobs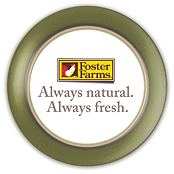 Servings: 4
Prep Time: 75 minutes
Cook Time: 15 minutes
User Rating:

Read User Reviews
Print:
3x5
,
4x6
,
full page
Copyright 2005 Allrecipes.com; by Simmi Gupta
Summary
Chicken cubes are marinated in a chili-lime sauce and then grilled. Serve with white long grain rice and grilled veggies for a delicious dinner.
INGREDIENTS
Chicken
1 pound Foster Farms Boneless Skinless Breast Tenders
skewers
Marinade
3 tablespoons olive oil
1 1/2 tablespoons red wine vinegar
1 lime, juiced
1 teaspoon chili powder
1/2 teaspoon paprika
1/2 teaspoon onion powder
1/2 teaspoon garlic powder
cayenne pepper to taste
salt and freshly ground black pepper
USER NOTES & RATINGS
1/20/2006 Reviewed by Larry Holt

We have served this dish several times and we have had nothing but praise from our guests. We have printed the recipiet and given it to a lot of people from Kansas City to Llittle Rock
Rate and add Comments
DIRECTIONS
1. In a small bowl, whisk together the olive oil, vinegar, and lime juice. Season with chili powder, paprika, onion powder, garlic powder, cayenne pepper, salt, and black pepper. Place the chicken in a shallow baking dish with the sauce, and stir to coat. Cover, and marinate in the refrigerator at least 1 hour.

2. Preheat the grill for medium-high heat. Thread chicken onto skewers, and discard marinade.

3. Lightly oil the grill grate. Grill skewers for 10 to 15 minutes, or until the chicken juices run clear.
NUTRITIONAL INFO
| | |
| --- | --- |
| Calories | 227 cal |
| Total Fat | 13 g |
| Cholesterol | 65 mg |
| Sodium | 161 mg |
| Carbohydrates | 3.2 g |
| Fiber | 0.8 g |
| Protein | 23.9 g |