Hawaiian Chicken Kabobs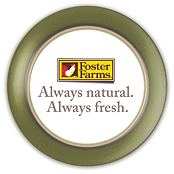 Servings: 8
Prep Time: 130 minutes
Cook Time: 20 minutes
User Rating:

Read User Reviews
Print:
3x5
,
4x6
,
full page
Copyright 2005 Allrecipes.com; by Dawn
Summary
A light marinade of soy sauce, brown sugar, and sherry with sesame and spices tenderizes these chicken pineapple kabobs into an aloha grilled dream of a dish!
INGREDIENTS
Skewers
8 Foster Farms Boneless Skinless Breast Fillets, cut into 2 inch pieces
1 (20 ounce) can pineapple chunks, drained
skewers
Marinade
3 tablespoons soy sauce
3 tablespoons brown sugar
2 tablespoons sherry
1 tablespoon sesame oil
1/4 teaspoon ground ginger
1/4 teaspoon garlic powder
DIRECTIONS
1. In a shallow glass dish, mix the soy sauce, brown sugar, sherry, sesame oil, ginger, and garlic powder. Stir the chicken pieces and pineapple into the marinade until well coated. Cover, and marinate in the refrigerator at least 2 hours.

2. Preheat grill to medium-high heat.

3. Lightly oil the grill grate. Thread chicken and pineapple alternately onto skewers. Grill 15 to 20 minutes, turning occasionally, or until chicken juices run clear.
NUTRITIONAL INFO
| | |
| --- | --- |
| Calories | 203 cal |
| Total Fat | 4.2 g |
| Cholesterol | 61 mg |
| Sodium | 418 mg |
| Carbohydrates | 17.1 g |
| Fiber | 0.6 g |
| Protein | 23.5 g |