Yakitori Chicken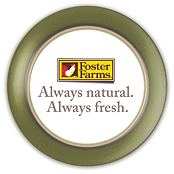 Servings: 6
Prep Time: 25 minutes
Cook Time: 20 minutes
User Rating:

Read User Reviews
Print:
3x5
,
4x6
,
full page
Copyright 2005 Allrecipes.com; by Dakota Kelly
Summary
Chicken is marinated in a soy sauce, sake and ginger sauce, then threaded onto skewers and broiled with leeks for an easy, tasty and fun meal.
INGREDIENTS
Marinade:
1/2 cup sake
1/2 cup soy sauce
1 tablespoon sugar
1 clove garlic, crushed
1 (2-inch) piece fresh ginger root, grated
Chicken:
1 pound Foster Farms Boneless Skinless Breast Fillets, cubed
Other:
3 leeks, white part only, cut into 1/2-inch pieces
DIRECTIONS
1. In a medium dish, mix together the sake, soy sauce, sugar, garlic and ginger. Add chicken, and allow to marinate for 15 minutes.

2. Preheat your oven's broiler. Grease six metal skewers, and thread alternately with 3 pieces of chicken and 2 pieces of leek. Place on a baking sheet or broiling pan, and brush with the marinade.

3. Broil for about 5 minutes, baste again, then broil for another 5 minutes, or until chicken is cooked through. Discard remaining marinade.
NUTRITIONAL INFO
| | |
| --- | --- |
| Calories | 158 cal |
| Total Fat | 1.1 g |
| Cholesterol | 44 mg |
| Sodium | 1273 mg |
| Carbohydrates | 11.6 g |
| Fiber | 1 g |
| Protein | 19.4 g |