Tangy Chicken Fajitas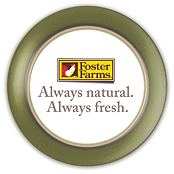 Summary
Using Foster Farms Boneless Skinless Chicken Breasts cut into strips, lime, vinegar and Italian salad dressing mix offer an alternative to the usual Mexican-spiced chicken, onion and green pepper saute. Serve in the traditional manner, with tortillas and a dollop of sour cream. If you don't want to cook up chicken use Foster Farms Deli Grilled Strips as an option!
INGREDIENTS
1/2 cup olive oil
1/2 cup distilled white vinegar
1/2 cup fresh lime juice
2 (.7 ounce) packages dry Italian-style salad dressing mix
3 Foster Farms whole boneless, skinless chicken breast, cubed
1 onion, sliced
1 green bell pepper, sliced
DIRECTIONS
1. In a large glass bowl combine the oil, vinegar, lime juice, and dry salad dressing mix. Mix together. Add chicken strips, onion and bell pepper. Cover dish and refrigerate. Marinate for 3 to 6 hours.

2. In a large skillet, heat oil. Remove chicken, onion and bell pepper from marinade and saute in oil until chicken is cooked through (juices run clear) and onion is translucent.
NUTRITIONAL INFO
| | |
| --- | --- |
| calories | 307 cal |
| total fat | 22.6 g |
| cholesterol | 41 mg |
| sodium | 1065 mg |
| carbohydrates | 8.8 g |
| fiber | 0.9 g |
| protein | 16.9 g |