Baked Teriyaki Chicken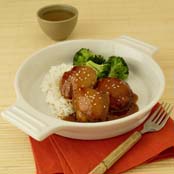 Servings: 6
Prep Time: 30 minutes
Cook Time: 60 minutes
User Rating:

Read User Reviews
Print:
3x5
,
4x6
,
full page
Copyright 2009 Allrecipes.com; by Marian Collins
Summary
A spicy, homemade teriyaki of soy sauce, cider vinegar, ginger and garlic enlivens your choice of chicken cuts. Doubles easily to satisfy the hoards.
INGREDIENTS
Foster Farms Chicken Thighs
Sauce
1 tablespoon cold water
1 tablespoon corn starch
1/2 cup white sugar
1/2 cup soy sauce
1/4 cup cider vinegar
1 clove garlic, minced
1/2 teaspoon ground ginger
1/4 teaspoon ground black pepper
USER NOTES & RATINGS
10/21/2006 Reviewed by debbie

Rate and add Comments
DIRECTIONS
1. In a small saucepan over low heat, combine the cornstarch, cold water, sugar, soy sauce, vinegar, garlic, ginger and ground black pepper. Let simmer, stirring frequently, until sauce thickens and bubbles.

2. Preheat oven to 425 degrees F (220 degrees C).

3. Place chicken pieces in a lightly greased 9x13 inch baking dish. Brush chicken with the sauce. Turn pieces over, and brush again.

4. Bake in the preheated oven for 30 minutes. Turn pieces over, and bake for another 30 minutes, until no longer pink and juices run clear. Brush with sauce every 10 minutes during cooking.
NUTRITIONAL INFO
| | |
| --- | --- |
| Calories | 277 cal |
| Total Fat | 10.1 g |
| Cholesterol | 88 mg |
| Sodium | 1296 mg |
| Carbohydrates | 20.6 g |
| Fiber | 0.2 g |
| Protein | 25.1 g |