Alexandria Boswell
La Jolla, CA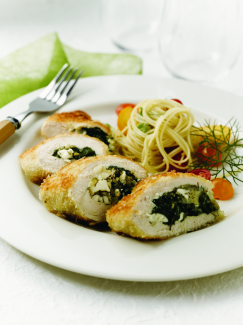 4 Foster Farms chicken breast halves, boneless and skinless
1 Tbls olive oil
1/2 cup onion, finely diced
1 bag (10 oz) spinach leaves
1/4 cup fresh dill, chopped
1/2 cup Feta cheese crumbles
1/2 cup Monterey Jack cheese, grated
1/2 tsp salt
1/2 tsp black pepper
2 eggs, beaten
1 cup panko (Japanese bread crumbs)
Preheat oven to 375 F.
In large skillet over medium-high heat, warm olive oil. Add onions to skillet and sauté until translucent, about 4 minutes. Add spinach to skillet, cover, reduce heat to medium and cook until spinach is wilted. Transfer onion and spinach to large bowl. Add dill, Feta cheese, Monterey Jack cheese, salt and pepper to bowl; mix well to combine.
Sprinkle chicken with salt and pepper. Place eggs in small bowl and panko in pie plate. Spray baking sheet with cooking spray and set aside.
Using sharp knife, slit each chicken breast along long side, cutting only about 3/4 of the way through. Divide spinach mixture into four sections and stuff each breast with a portion of the mixture. Dip breasts first in egg mixture and then in panko to coat. Place chicken on prepared pan and lightly coat chicken with olive oil cooking spray. Place in hot oven and cook 45 minutes or until chicken is done.