Marci Adelsman
Kent, WA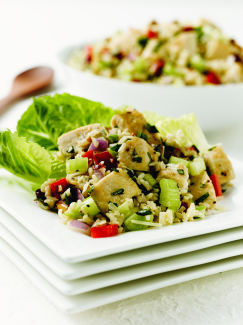 1 1/4 pounds Foster Farms chicken tenders
1/4 cup olive oil
1/2 tsp salt
1/4 tsp black pepper
4 cups cooked brown rice
1 cup diced celery
1/2 cup diced red onion
1/4 cup chopped green onion
1 cup diced red bell pepper
1/2 cup toasted almonds, chopped
1/4 cup shredded Parmesan cheese
1/4 cup dried cranberries
1/2 cup chopped fresh basil
1/3 cup chopped Italian parsley
Dressing:
1/2 cup olive oil
3 cloves garlic, minced
2 Tbls apple cider vinegar
2 Tbls honey
2 Tbls Dijon Mustard
1/2 tsp salt
1 tsp black pepper
In medium size skillet over medium-high heat, warm olive oil. Sprinkle chicken with salt and pepper, add to pan and sauté 4 minutes per side, until cooked through. Remove chicken from pan and set aside. When chicken is cooled, dice into 3/4" cubes.
In large serving bowl, combine brown rice, celery, red onion, green onion, red bell pepper, almonds, Parmesan cheese, cranberries, basil and parsley. Stir well to combine. In small bowl, combine olive oil, garlic, apple cider vinegar, honey and mustard. Stir well to blend.
Add chicken to rice mixture. Slowly add dressing to cover, tossing to coat well. Sprinkle with salt and pepper; toss again to combine.