Foster Farms chicken breasts are lightly seasoned, grilled, and then sliced into strips for great convenience. Try these moist, lean, and versatile strips in an endless variety of recipes. They're the perfect ingredient shortcut that doesn't sacrifice on flavor.
How to Heat:
Conventional Oven:
Preheat oven to 400° F.
Place frozen strips in a single layer on a foil-lined baking sheet.
Heat 8 to 10 minutes or until heated through.
Microwave Oven:
Place several strips in a circle (leave a space in the center) on a microwave safe plate.
Microwave uncovered at 50% power for 2 minutes, then on HIGH power for 1 minute or until heated through.
Let stand 1 minute before serving.
Use potholders to remove plate from oven.
GREAT RECIPES WITH THIS PRODUCT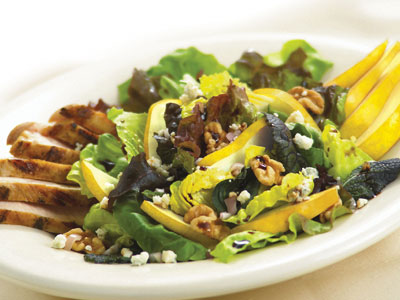 Pear Bistro Salad
California Chicken Salad