Grandma's Chicken Noodle Soup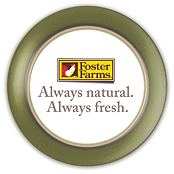 Servings: 12
Prep Time: 20 minutes
Cook Time: 25 minutes
User Rating:

Read User Reviews
Print:
3x5
,
4x6
,
full page
Copyright 2009 Allrecipes.com; by Corwynn Darkholme
Summary
This is a recipe that was given to me by my grandmother. It is a very savory and tasty soup and I believe that all will like it. If you would like to add even more flavor, try using smoked chicken!!
INGREDIENTS
2 1/2 cups wide egg noodles
1 teaspoon vegetable oil
12 cups chicken broth
1 1/2 tablespoons salt
1 teaspoon poultry seasoning
1 cup chopped celery
1 cup chopped onion
1/3 cup cornstarch
1/4 cup water
3 cups Foster Farms diced, cooked chicken
DIRECTIONS
1. Bring a large pot of lightly salted water to a boil. Add egg noodles and oil, and boil for 8 minutes, or until tender. Drain, and rinse under cool running water.

2. In a large saucepan or Dutch oven, combine broth, salt, and poultry seasoning. Bring to a boil. Stir in celery and onion. Reduce heat, cover, and simmer 15 minutes.

3. In a small bowl, mix cornstarch and water together until cornstarch is completely dissolved. Gradually add to soup, stirring constantly. Stir in noodles and chicken, and heat through.
NUTRITIONAL INFO
| | |
| --- | --- |
| calories | 146 cal |
| total fat | 3.6 g |
| cholesterol | 34 mg |
| sodium | 1664 mg |
| carbohydrates | 11.4 g |
| fiber | 0.7 g |
| protein | 15.7 g |