Cranberry Stuffed Turkey Breasts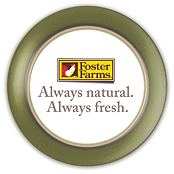 Servings: 9
Prep Time: 25 minutes
Cook Time: 80 minutes
User Rating:

Read User Reviews
Print:
3x5
,
4x6
,
full page
Copyright 2009 Allrecipes.com; by Esther Nelson
Summary
These beautiful spiraled medallions are created by rolling bread stuffing, dried cranberries and chopped pecans in butterflied turkey breasts. Each roll is browned in butter and baked before slicing.
INGREDIENTS
2 Foster Farms Fresh Turkey 1/2 Hen Breast
Stuffing
1 1/2 cups sweetened-dried cranberries
1 cup chopped pecans
1/2 cup pecan halves
2 tablespoons olive oil
1 (12 ounce) package herb-seasoned dry bread stuffing mix
DIRECTIONS
1. Prepare stuffing mix according to package directions, set aside and let cool.

2. With a sharp knife butterfly breasts open to lay flat (this usually takes 3 cuts, depending on the size of the breasts). Place each breast between two sheets of waxed paper and flatten with a mallet.

3. On each breast, spread prepared stuffing to 1/4 inch of the edge. Sprinkle with most of the dried cranberries and all of the chopped pecans. Roll up "jellyroll" style, starting with the long end and roll tightly. Tuck in ends and tie in sections with string, about 4 sections around middle and one running the length of the roll to secure the ends.

4. Place the olive oil in an oven proof skillet and heat. Carefully brown rolls on all sides. Place skillet in oven, uncovered and bake in a preheated 350 degrees F (175 degrees C) oven for 1 hour or until a knife inserted draws clear juices. Do not let these get overly dry. Allow rolls to set for 15 minutes before slicing (don''t forget to cut off strings) into 1/2 to 3/4 inch circles. Leave one roll whole and slice the other for presentation. Stuffing will be spiraled into meat. Present on your prettiest platter on a bed of curly lettuce, garnish by sprinkling with the whole pecans and some dried cranberries.
NUTRITIONAL INFO
| | |
| --- | --- |
| Calories | 499 cal |
| Total Fat | 20.8 g |
| Cholesterol | 73 mg |
| Sodium | 643 mg |
| Carbohydrates | 47.8 g |
| Fiber | 4.1 g |
| Protein | 30.5 g |