Grilled Chicken Quesadillas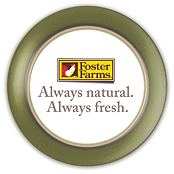 Servings: 6
Prep Time: 35 minutes
Cook Time: 30 minutes
User Rating:

Read User Reviews
Print:
3x5
,
4x6
,
full page
Copyright 2009 Allrecipes.com; by Thuy Ortiz
Summary
This recipe is a delicious snap. The meat is coated with adobo seasoning, grilled, and cut into bite-sized pieces. Then a tortilla is layered with cheese, chile peppers, chicken, and olives.
INGREDIENTS
2 pounds Foster Farms boneless, skinless chicken thighs
adobo seasoning to taste
12 (10 inch) flour tortillas
1 1/2 cups shredded Mexican cheese blend
1 onion, chopped
1 (6 ounce) can sliced black olives, drained
1 (7 ounce) can diced green chilies, drained
DIRECTIONS
1. Place the chicken on a plate, and sprinkle with adobo seasoning on both sides. Let it marinate for 15 minutes.

2. Heat grill for medium-high heat.

3. Lightly oil the grill grate. Place chicken on grill, and cook for 10 minutes per side, or until juices run clear. Remove chicken from grill, and cut into bite-size pieces.

4. Place one or two tortillas on the grill, and sprinkle with a thin layer of cheese, chicken, onion, olives, and chiles. Top with another tortilla, and grill until brown and crispy on both sides, about 3 minutes per side. Repeat with remaining ingredients. Cut into wedges to serve.
NUTRITIONAL INFO
| | |
| --- | --- |
| calories | 857 cal |
| total fat | 24.9 g |
| cholesterol | 129 mg |
| sodium | 1668 mg |
| carbohydrates | 86.4 g |
| fiber | 6.5 g |
| protein | 47.2 g |