Spinach Chicken Rolls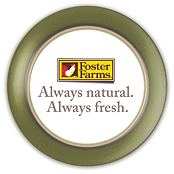 Summary
This wholesome recipe, using fresh Foster Farms chicken, pleases the tastebuds while serving up plenty of nutrients. It is a great way to incorporate spinach into your meal! Pair with a side salad for extra greens.
INGREDIENTS
Chicken:
4 Foster Farms Boneless Skinless Thin-Sliced Chicken Breast Fillets
Saute:
4 teaspoons vegetable oil, divided
1/2 cup onion, chopped
Spinach Mixture:
1/3 cup breadcrumbs
1/2 teaspoon garlic salt
1/4 teaspoon dried basil
1 package (10 oz.) frozen chopped spinach, thawed and well drained
1 egg, beaten
1/2 cup Mozzarella cheese
DIRECTIONS
1. In medium skillet, in 2 teaspoons hot oil, cook onion until soft. Remove from heat; stir in breadcrumbs, garlic salt, basil, spinach, egg, and cheese.

2. To form chicken rolls: spread 1/4 of the spinach mixture on chicken. Starting with narrow end, roll up chicken. Secure with toothpick.

3. In covered skillet, in 2 teaspoons hot oil, cook chicken about 7 minutes; turn. Cook about 7 minutes longer or until chicken is no longer pink when cut into.