Picante Marinated Chicken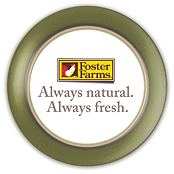 Servings: 6
Prep Time: 35 minutes
Cook Time: 20 minutes
User Rating:

Read User Reviews
Print:
3x5
,
4x6
,
full page
Copyright 2009 Allrecipes.com; by Nanette
Summary
A little mild salsa teams nicely with lemon and Dijon mustard for a quick marinade and glaze for sauteed Foster Farms Boneless Skinless Breat chicken.
INGREDIENTS
6 Foster Farms Boneless Skinless Breast Fillets
2 tablespoons olive oil
1/2 cup picante sauce
1/4 cup Dijon-style prepared mustard
2 tablespoons lemon juice
2 tablespoons olive oil
DIRECTIONS
1. In a large glass bowl combine the picante sauce, mustard and lemon juice. Add chicken and toss to coat. Cover and marinate in the refrigerator for 30 minutes.

2. Heat olive oil in a large skillet. Remove chicken from marinade and saute in hot oil until well browned on both sides. Add remaining marinade and let simmer until chicken is glazed and tender and juices run clear. Remove chicken to platter/serving dish. Boil remaining marinade for 5 minutes to remove possibility of bacteria, then pour over chicken.
NUTRITIONAL INFO
| | |
| --- | --- |
| Calories | 191 cal |
| Total Fat | 6.9 g |
| Cholesterol | 68 mg |
| Sodium | 497 mg |
| Carbohydrates | 3 g |
| Fiber | 0.5 g |
| Protein | 28.2 g |