Chicken Liver Spaghetti Sauce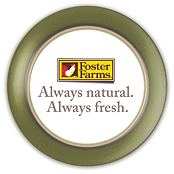 Summary
This recipe puts a uniqie spin on traditional spaghetti sauce using Foster Farms chicken livers. Enjoy over pasta with fresh french bread.
INGREDIENTS
Chicken Livers:
1 package (3/4 lb.) Foster Farms Chicken Livers
salt and pepper to taste
3 tablespoons oil
Spaghetti Sauce:
1 large onion, chopped
1 clove garlic, minced
1 cup chicken broth
1 cup tomato sauce
2 tablespoons tomato paste
1/2 teaspoon oregano
1/2 teaspoon basil
1/2 pound spaghetti
DIRECTIONS
1. Brown livers lightly in oil. Salt and pepper to taste. Remove from oil and chop fine.

2. Saute onion and garlic in same pan and oil until onion is transparent. Add broth, tomato sauce, tomato paste, seasonings and chopped livers. Cover and simmer for 1 hour. Stir occasionally. Season to taste.

3. Serve over cooked spaghetti and top with grated Parmesan or Romano cheese.