Chicken Fruit Salad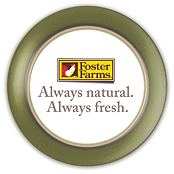 Summary
This fruity salad, using Foster Farms grilled chicken strips, is the perfect meal for a summer evening. Unwind outside while enjoying the flavors of this unique combination.
INGREDIENTS
Chicken:
2 cups Foster Farms Fast Favorites Grilled Chicken Breast Strips, chopped into bite-size pieces
Salad Mixture:
1 cup seedless grapes, halved
1/2 cup broken pecans
1/4 cup finely chopped celery
2 tablespoons sour cream
2 teaspoons lime juice
2 cantaloupes, halved
Top With:
lime slices or mint leaves for garnish
DIRECTIONS
1. Chill chicken strips, grapes and cantaloupes until serving time.

2. When ready to serve, mix together in a large bowl, chicken, grapes, pecans, celery, sour cream, and lime juice.

3. Spoon into cantaloupe halves. Garnish with lime slices or mint leaves. Serve chilled.