Hot 'n Spicy Barbecued Drumsticks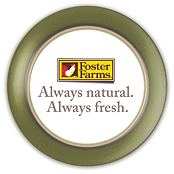 Summary
These hot and spicy barbecued drumsticks will have your taste buds tingling! The special barbeque sauce, made with chili powder, garlic, tomato sauce, hot pepper sauce, and Worcestershire sauce, makes these drumsticks extra tasty.
INGREDIENTS
Turkey Drumsticks:
3 large Foster Farms Turkey Drumsticks or 6 small Turkey Drumsticks
Basting Sauce:
1 can (8 oz.) tomato sauce
juice of 1 fresh lemon
4 large garlic cloves, crushed
2 tablespoons sugar
1 teaspoon chili powder
1 teaspoon salt
1/4 teaspoon pepper
1 teaspoon Worcestershire sauce
1/4 teaspoon hot pepper sauce
DIRECTIONS
1. Wrap each drumstick in heavy-duty aluminum foil, leaving room for steam expansion and keeping dull sides of foil out.

2. Grill over a single layer of slow coals, 1 hour for large drumsticks and 45 minutes for small drumsticks, turning every 15 minutes and adding additional charcoal as needed to maintain temperature.

3. Meanwhile, prepare barbecue sauce by combining tomato sauce, lemon juice, garlic, sugar, chili powder, salt, pepper, Worcestershire sauce and hot pepper sauce in a small bowl.

4. Remove aluminum foil from drumsticks and continue grilling an additional 30 minutes over slow coals, basting twice on each side with sauce and turning drumsticks after 15 minutes.