Apple Walnut Chicken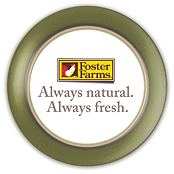 Summary
Applesauce and juice add a sweet twist to this chicken dish! A walnut topping gives it a tasty crunch.
INGREDIENTS
Chicken:
1 package (about 2 lbs.) Foster Farms Chicken Half Breasts
2 teaspoons vegetable oil
Sauce:
1 cup applesauce
1/2 cup apple juice
1/4 teaspoon ground cinnamon
1/4 teaspoon ground nutmeg
1 teaspoon cornstarch dissolved in 1 tablespoon cold water
1/4 cup chopped walnuts
DIRECTIONS
1. Rinse chicken and pat dry.

2. In large 4-quart saucepan, in hot oil, brown chicken on all sides. Drain and remove chicken.

3. In skillet, mix applesauce, apple juice, cinnamon, and nutmeg. Place chicken in skillet.

4. Simmer chicken about 25 minutes or until no longer pink when cut into.

5. Stir in cornstarch mixture. Simmer, stirring constantly, about 2 minutes or until sauce thickens. Sprinkle with walnuts.