Turkey and Brie Crostinis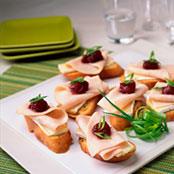 Servings: 20 appetizers
Prep Time: 15 minutes
User Rating:

Read User Reviews
Print:
3x5
,
4x6
,
full page
Foster Farms Recipe by Chef Mark Tadros
Summary
This is a very elegant way to serve lunchmeat, keeping costs down and making your guests happy at the same time.
INGREDIENTS
Turkey:
1 package (10 slices) Foster Farms Oven Roasted Turkey Breast
Serve With:
1 French baguette
1/4 cup olive oil
salt and pepper to taste
1 7 oz. brie triangle
1 can (8 oz.) whole cranberry sauce
green onion slivers or parsley sprigs (optional)
USER NOTES & RATINGS
12/10/2005 Reviewed by Frederick Koester

Rate and add Comments
DIRECTIONS
1. Slice baguette into 20 slices (about 1/2-inch thick), brush with olive oil and season with salt and pepper.

2. Place bread onto a cookie sheet and broil in oven until golden brown, approximately 2 minutes. Keep a very close eye on bread as it can burn quickly.

3. Slice brie into 20 thin pieces about the same length as the baguette slices and set aside.

4. Cut turkey slices in half and set aside.

5. When toast has cooled, place a piece of brie on top of each toasted baguette slice. Roll each turkey half and place one on top of each brie slice. Place one teaspoon of cranberry sauce on top of the turkey rolls.

6. Optional: Place a green garnish, such as a slice of green onion or a piece of parsley, on top of each cranberry dollop.

Tip: The crostini can be made up to 2 days in advance and stored in a loosely covered container.