Golden Delicious Turkey Breast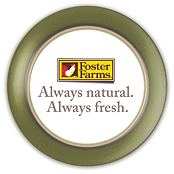 Servings: 6-8
Cook Time: 120 minutes
User Rating:

Read User Reviews
Print:
3x5
,
4x6
,
full page
Foster Farms Recipe
INGREDIENTS
Foster Farms Whole Turkey Hen Breast
1 cups unsweetened cider or apple juice
1/4 cup soy sauce
2 tablespoons corn starch
USER NOTES & RATINGS
1/2/2006 Reviewed by Maria I. Orsinger

7/14/2005 Reviewed by

Rate and add Comments
DIRECTIONS
1. Place breast, with breast bone up, in 13x9x2 inch baking pan. Roast, uncovered at 450 degrees for 20-25 minutes until skin is golden brown. Drain and discard any fat. 2. Combine 1 ½ cups cider with soy sauce and pour over turkey. Reduce oven temperature to 350 degrees. Cover turkey and roast to an internal temperature of 172-180 degrees, approximately 15-20 minutes per pound. 3. Baste occasionally with pan liquid. Blend cornstarch with remaining ½ cup cider. Stir into liquid in bottom of pan. 4. Continue to bake turkey, uncovered for 10/15 minutes until sauce thickens. Slice turkey and spoon sauce over slices.