Oven-Braised Lime and Ginger Drumsticks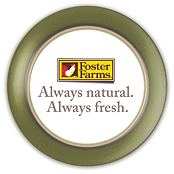 Servings: 6
Prep Time: 5 minutes
Cook Time: 60 minutes
User Rating:

Read User Reviews
Print:
3x5
,
4x6
,
full page
Foster Farms Recipe
INGREDIENTS
12 Foster FarmsAll Natural Individually Frozen Drumsticks
Sauce
1/4 cup honey
2 tablespoons soy sauce
1/4 cup lime juice
2 tablespoons ketchup
1 teaspoon ground ginger
USER NOTES & RATINGS
7/18/2005 Reviewed by SEbina

Rate and add Comments
DIRECTIONS
1. Preheat oven to 400 degrees. Combine all ingredients except chicken together in a small mixing bowl. Set aside.

2. Spray shallow glass or enameled baking dish with non-stick cooking spray. Place frozen drumsticks in single layer in prepared dish. Spoon sauce mixture over chicken pieces, cover tightly with foil. Bake 40 minutes.

3. Remove foil and turn drumsticks. Continue to bake, uncovered, basting several times for 15 to 20 minutes or until internal temperature reaches 170 degrees. Remove chicken to warm platter and spoon sauce over.