Goat Cheese and Spinach Turkey Burgers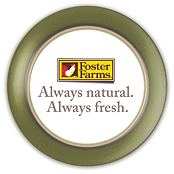 Servings: 4
Prep Time: 10 minutes
Cook Time: 15 minutes
User Rating:

Read User Reviews
Print:
3x5
,
4x6
,
full page
Copyright 2009 Allrecipes.com; by Nicole
Summary
Pile on the condiments, and enjoy one of these tasty turkey burgers today! These are great when cooked on the grill.
INGREDIENTS
1 1/2 pounds Foster Farms Fresh Ground Turkey Breast 99% Fat Free
1 cup frozen chopped spinach, thawed and drained
2 tablespoons goat cheese, crumbled
DIRECTIONS
1. Preheat the oven broiler.

2. In a medium bowl, mix ground turkey, spinach, and goat cheese. Form the mixture into 4 patties.

3. Arrange patties on a broiler pan, and place in the center of the preheated oven 15 minutes, or until done.
NUTRITIONAL INFO
| | |
| --- | --- |
| Calories | 276 cal |
| Total Fat | 15.2 g |
| Cholesterol | 137 mg |
| Sodium | 207 mg |
| Carbohydrates | 1.6 g |
| Fiber | 1.2 g |
| Protein | 31.6 g |