Eva's Savory Turkey Legs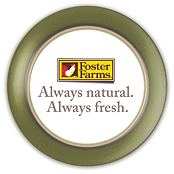 Servings: 4
Prep Time: 30 minutes
Cook Time: 60 minutes
User Rating:

Read User Reviews
Print:
3x5
,
4x6
,
full page
Copyright 2009 Allrecipes.com; by Charles Aiken
Summary
A savory stuffing mixture makes roasted turkey legs into a full meal!
INGREDIENTS
Stuffing: Kartenspiele
2 cups dry bread crumbs
1 large stalk celery, minced
1/3 cup dried cranberries
1/4 cup chopped walnuts
1 small yellow onion, diced
1/4 teaspoon minced garlic
1/2 teaspoon ground sage
1/2 teaspoon dried marjoram
1/2 teaspoon salt
1/4 teaspoon pepper
1 egg
1/4 cup hot water
Turkey:
2 Foster Farms Turkey Tray Pack Drums
salt and pepper
1 1/2 tablespoons butter
DIRECTIONS
1. Preheat oven to 375 degrees F (190 degrees C). Place a large sheet of aluminum foil on a medium baking sheet.

2. In a medium bowl, mix the bread, celery, cranberries, walnuts, onion, and garlic. Season with sage, marjoram, salt, and pepper. Stir in the egg and enough hot water to moisten.

3. Arrange turkey legs on the foil sheet, and season with salt and pepper. Spoon the bread mixture around the legs, and dot with butter. Tightly seal the foil around the legs and bread mixture.

4. Bake 1 hour in the preheated oven, or until the turkey leg meat has reached an internal temperature of 180 degrees F (80 degrees C).
NUTRITIONAL INFO
| | |
| --- | --- |
| Calories | 399 cal |
| Total Fat | 17.4 g |
| Cholesterol | 217 mg |
| Sodium | 580 mg |
| Carbohydrates | 19.3 g |
| Fiber | 2.4 g |
| Protein | 39.7 g |